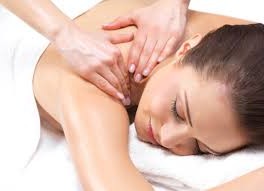 Massage Therapy is a hands-on manipulation of the soft tissues of the body including muscles, connective tissue, tendons, ligaments and joints.  It is an alternative health option to help alleviate the soft tissue discomfort associated with everyday and occupational stresses, muscular overuse and many chronic pain syndromes. Massage therapy can also greatly reduce the development of painful muscular patterning, if employed early enough after accidents involving trauma and injury.
Spa quality without the Spa price!
Watch this video to view the room you will be soothed, relaxed and refreshed in once you book your session.
Services Available
Spa Massage – Relaxation Therapy

Stone Massage

Ashiatsu (holding on to bars while walking on you). The best deep tissue you could ever experience!

Deep Tissue Massage

Thai Massage (Stretching on a mat while being massaged in loose fitting clothes)

Doula Services (Birth Coach)

Pregnancy Massage

Massage for Infants & Children

Massage for Work Injuries

Auto Accident Therapy

Sports Therapy Massage

Vision Health
Specialty Massage Therapy for:
Cervical & Neck injuries

Thoracic & Lumbar – Back Pain

Headaches & Migraines

Sciatica

Chronic Pain

Carpal Tunnel Syndrome

Asthma & All lung diseases

All joint related surgeries: Neck, Back, Knee, Hip etc…

Scoliosis

Fibromyalgia

Chronic Fatigue Syndrome

Arthritis
Pre & Post Pregnancy Massage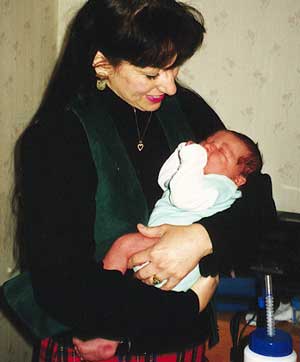 Pre & post pregnancy massage is a wonderful way to relax, increase your energy, and relieve discomfort during your pregnancy. The caring touch of massage can help you experience your changing body in a positive, accepting way. A soothing massage can relieve physical and emotional tension, help you sleep better, and boost your energy.
Onsite Corporate & In-Home Massage
Ocean Breeze Therapy will provide therapy in the convenience of your:
We will work around your schedule and are available for evenings and weekends!
Corporate chair and Thai massage is available for Conference events & meetings.
In-home massage treatment is perfect for one who wants to luxuriate in the comfort and privacy of their own home and totally relax.
Therapeutic Work
Ocean Breeze Therapeutic Massage uses Therasage Healing Pad features far-infrared heat, negative ions and natural jade. When the jade is heated, it emits far-infrared heat that penetrates deep into your body as much as 2 to 3 inches below the skin.
Deep penetrating, far-infrared heat has the following benefits:
Pain Relief

Reduces Stress and Fatigue

Improves Blood Circulation

Removes Harmful Toxins

Improves the Immune System

Adds Negative Ions into the bloodstream which is believed to produce a calming affect along with alleviating depression, boost our daytime energy and increase defense against infection.
Are any of these conditions preventing you from feeling your best:
Shoulders stiff or sore

Nagging lower back pain

Limited range of motion

Sciatica

Carpal Tunnel

Neck pain

Auto injury

Pregnancy pre/post, labor & birth

Sports injuries

Work-related injuries

Pre/Post Surgical procedures

Head Aches
No one can ignore the many ways stress or just simple normal life movements may affect and limit your daily work performance. An Ocean Breeze Therapy massage session will enable you to feel more balanced, less stressed and pain free, so you can feel your best again.
Discounts available in series of 4, get 5th one free.  Discounts for the following:
| | | |
| --- | --- | --- |
| Teachers    | Law Enforcement | Fire Fighters |
| Hospice Volunteers | Military | Seniors |
Complimentary Services for Cystic Fibrosis Individuals
Animals treated as well!
improve your dog's health
enhance your relationship with your dog
develop your own intuitive touch
help you gain a deeper wholistic awareness of your dog's body and spirit
Holiday GiftCard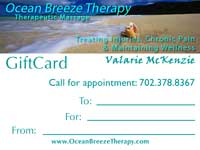 Shopping made easy. Holidays made healthy!
A Rejuvenating EFT or Massage GiftCard is the ultimate gift for everyone on your list! Great for birthdays, anniversaries, all seasonal holidays, gratitude appreciation day, or any occassion.
Onsite or at your location. Call to order your GiftCard now in time for the Holidays!
Telephone: 702.378.8367
To discover how you can benefit from Ocean Breeze Therapy and the Emotional Freedom Technique, contact Valarie for a free initial consultation at: Telephone: 702.378.8367 or Email: Valarie@OceanBreezeTherapy.com