Las Vegas Ocean Breeze Therapy Massage Onsite Specialize in:
Onsite corporate services include: Chair Massage, Carpal Tunnel Treatment, Deep Tissue work, Acupressure, Chronic Back and Shoulder Pain treatment, Sports Massage and Neuromuscular Therapies.

Specializes in onsite chair massage services for corporate wellness programs. We actually save you money!
Many employers are noting the positive effects of an onsite massage program as part of their wellness program.
We are on-call, Licensed Massage Therapists serving the Las Vegas area. We're mobile. We can come to you!
Chair Massage is a seated massage that takes place in your office in 20 to 30 minute sessions.
Fully clothed

No oils

Focus on the neck, shoulders, back, arms and hands

We bring a portable massage chair
Benefits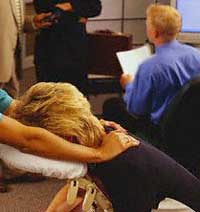 Reduces muscle tension

Helps reduce repetitive-stress injuries

Increases circulation, boosting energy and alertness

Easy to set up

Relaxing
Our massage therapists are certified, and trained in Thai massage and deep tissue massage.
Corporate chair and Thai massage is available for Conferences, events & meetings.
Onsite Massage is a safe, cost-effective, and reliable method to prevent and correct:
Repetitive Use Injuries – Carpal Tunnel Syndrome and tendonitis, which are among the most common submissions on health insurance forms.

Work Stress – Back and neck pain, headaches, intestinal irregularities, sleep disorders, chemical dependency, lateness and absenteeism, etc., bite millions of dollars out of the US Gross National Product each year.
Ocean Breeze Therapy

provides therapy in the convenience of your:
We will work around your schedule and are available for evenings and weekends!
Las Vegas In-Home Massage Service
This specially designed massage treatment is perfect for one who wants to luxuriate in the comfort and privacy of their own home and totally relax.
Let us bring our experienced massage practitioners into the comfort, privacy and security of your own home, business or hotel room. Our Services will help you restore health, vitality and balance to your body, mind and spirit. Imagine receiving a soothing or energizing massage, and not have to drive home!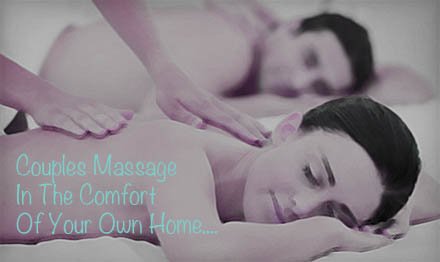 ---
Ocean Breeze Therapeutic Massage uses Therasage Healing Pad features far-infrared heat, negative ions and natural jade. When the jade is heated, it emits far-infrared heat that penetrates deep into your body as much as 2 to 3 inches below the skin.
Deep penetrating, far-infrared heat has the following benefits:
Pain Relief

Reduces Stress and Fatigue

Improves Blood Circulation

Removes Harmful Toxins

Improves the Immune System

Adds Negative Ions into the bloodstream which is believed to produce a calming affect along with alleviating depression, boost our daytime energy and increase defense against infection.
Animals treated as well!
Invalid Displayed Gallery
improve your dog's health
enhance your relationship with your dog
develop your own intuitive touch
help you gain a deeper wholistic awareness of your dog's body and spirit
To discover how you can benefit from Ocean Breeze Therapy, contact Valarie for a free initial consultation at: Telephone: 702.378.8367 or Email: Valarie@OceanBreezeTherapy.com